Podcast: Play in new window | Download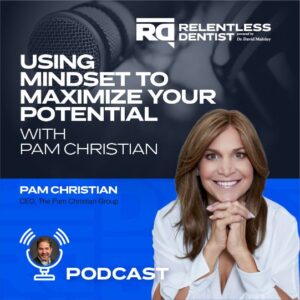 I believe that your mind is your greatest asset, which is why I'm very excited to have Pam Christian on the show today. Pam is someone who helps people break through limiting beliefs and crush unhealthy habits. She is an entrepreneur, author, mindset coach, speaker, and host of The Juice Podcast. In the culture of fear that we are dealing with today, Pam will help us tap into our most valuable resource in order to maximize our potential.
Listen in to hear Pam's story about how she discovered her passion and purpose in life. You'll get some great insight from her about how to eliminate the self-created barriers that keep us from living up to our potential. Pam also discusses how to maximize your effectiveness on both a personal and professional level.
Tune in to more Mind Shift Episode Podcast
Key Quotes:
"There are all these different things that could get in your way and impact your mindset, but if every day you wake up and write down the three reasons you got into dentistry in the first place, you're going to go back to that."
"Our thoughts—which dictate our mindset—are a predictor of how we're going to get through."
"The dots don't make sense as you're moving forward, but when you look back, you see how they all connect and lead you to this point today." – Steve Jobs
"Meditation is key. It is crucial, but people don't know how to do it."
"Most people don't know that thoughts can be different."
"When you start to do more things that resonate with you and fill you up, you naturally become more loving to yourself because you're doing things that are good for you."
Featured on the Show: