Podcast: Play in new window | Download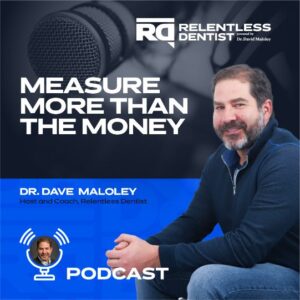 "Not everything that can be counted counts, and not everything that counts can be counted." — Albert Einstein
Money is necessary to put up and run a practice — we can't argue with that. But, it is not the be-all and end-all. The money supports our basic needs, goals, and security, but it cannot create a purpose in and of itself — and that's what I want to talk about today.
In this episode, I will share with you things that are not necessarily money-centered but can provide a significant impact on your business and even drive profits. These key indicators that aren't focused on a dollar figure but are profit-magnets will keep you, and your staff performs at their best.
Tune in and find solutions to common practice issues at  Prescriptions for Your Practice.
Key Quotes:
"If we treat money as a math game, we lose track of what really drives profits."
"If a business is human-centered, you can have all of the profits that you want. But if a business is profit-centered, then you'll end up invariably taking advantage of people."
"Trust, enthusiasm, and value are all emotional events. And employees' morale and motivation drive productivity. Your energy and focus and stack of skills drive business growth."
"A bad day for you can turn into a rut, and a rut can turn into a pit."
"You can't expect your team to be enthusiastic about their job if you're checked out. The tone is set at the top."
"You should be mindful about what you're putting into your eyes and your ears."
"The key components of a strong culture are safety, hope, optimism, resiliency, and efficacy."
"What keeps you enthusiastic will keep you productive."
"Referrals are the most viable thing in your business."
"Case acceptance starts at the moment somebody hears about you."
"A strong referral system can double or triple your marketing return on investment."
Featured on the Show:
I appreciate your feedback. Let me know what you learned and loved here:

[email protected]