Podcast: Play in new window | Download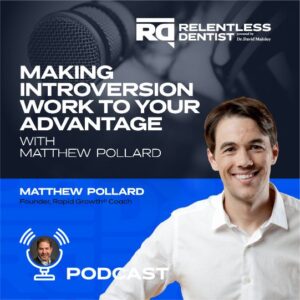 I have a confession to make. My journey to business was not a piece of cake. You see, I'm an introvert posing to be an extroverted guy trying to connect with the community where I was building my practice. Then came Matthew Pollard, the person that I can relate to. He is the author of the well-received books "The Introvert's Edge. How the Quiet and Shy Can Outsell Anyone" and "The Introvert's Edge To Networking". He's also a confessed introvert. Yet, instead of making his introversion a handicap, he successfully transformed it into an asset and made it work to his advantage.
Listen in as Matthew talks about how to find systems that will allow you to fill those skills gaps and leverage on your natural introverted strengths.  Find a strategy as an introvert that will work for you.
Be inspired and tune in to more Magnificent Marketing Episode Podcast
Key Quotes:
"I think the important thing people will realize is, being an introvert doesn't mean you're a second-class citizen. It also doesn't mean you should behave more extroverted and that's the key to success."
"The important thing for introverts to know is that your job is not to educate the client with your years of experience. It's to motivate and inspire action while embedding you as the only logical choice of which to do that action with." 
"So the biggest thing that I want everyone to know is first, you don't need to be extroverted. But as an introvert, it's not over. Educate and inform to get them to make a decision. It's to tell them what they need to know to help them make an easy decision."
"Let's frame this in a way that everyone will understand. Real costs — Okay, I'm going to need concentrating because I haven't done this expensive thing. Second, opportunity costs. Here's what it's going to look like if I grind my teeth for the next 20 years and the expensive treatments that I'm going to potentially have because of that.  And the emotional cost is, I'm stressed."
"You said, we know this, we know this, we know this, we know this. Yes you do. But by saying all of these things, here's what I hear as a customer. Okay. Fear, fear, jargon, issues, risk, fear, and money. That is all I hear in my head. It sounds like you're trying to scare me into spending money. It does not sound like you care."
"People always have the money. They just act to you that they don't because all they're hearing is jargon. Now your teams are just as bad at this. As a matter of fact, they are less experienced than you."
"Don't sell stuff to people that they don't need. Which story I'd prefer you to is just use logical detail because then, you won't get the sale. But if you go in to tell a story, make sure that the person will truly benefit." 
"If you choose a clientele that you really serve, well, then look at the three major outcomes, or the three major problems that they had and create one story for each one of those. Then learn those stories and practice those stories yourself, and like, just roll off the tongue." 
"Congruence and comfortability and repetition of people hearing the same story over and over will motivate them to take action."
"Things have changed. We don't like getting scared into decisions anymore, right? We love to believe that the person if we believe that you care, we'll buy anything you put in front of us. If we believe that you're trying to monetize, we'll buy nothing. And then we'll start looking around."
"In truth, the reason why a lot of your customers don't respect you like they used to, the reason why a lot of your customers aren't open to you suggesting what to buy is mainly because it's a marketing issue. You don't know how to articulate your value."
"We have to confront that stigma because it doesn't mean being introverted, doesn't mean we're second class citizens. It means our path to success is just different to that of an extrovert. The other thing is we have to stop using it as a crutch." 
"Empathy is hugely leadership. Empathy is massive in sales listening. It's something that extroverts perhaps don't do so well. And because of that, again, we have a massive advantage." 
"I've been responsible for five multimillion-dollar success stories. So for me, one of the things that I always try to get people to understand about my story is that being an introvert doesn't mean you can't succeed unless you decide."
"Find a strategy as an introvert that will work for you. And you'll realize that when you find that strategy, you'll actually run circles around those people that seem to be natural because a system will always outperform one that doesn't have one."
Featured on the Show: