Podcast: Play in new window | Download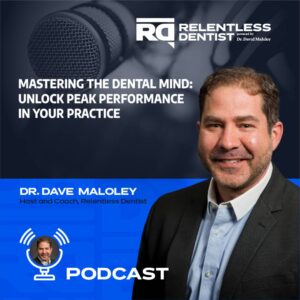 Intrigued by the power of the inner game? Let's start with an NFL playoff game that showcased how inner strength can redefine outcomes. This podcast draws inspiration from sports psychology, translating the interplay between "Self 1" and "Self 2" into actionable insights for your dental practice.
As a dental practice leader, you'll see how the inner game extends to your team, propelling collective growth. Learn how to cultivate a growth mindset, refine patient care processes, conquer self-doubt, embrace challenges, and balance control with adaptability. 
Dive into the unexpected connection between sports psychology and modern dental practice.

Discover the secret performance equation that champions swear by.

Grapple with the tension between Self 1 and Self 2, and learn how to silence that pesky inner critic.

Want a thriving dental career free of self-doubt?
Don't miss this episode.
Press play NOW! 
Listen in and find solutions to common practice issues at  Prescriptions for Your Practice.
Attention single-location dental practice owners who want to build a high-performance team so that you can take more time off while enjoying elevating profits: Learn about Dental Practice 3.0 and the new Dentists Ascend Mastermind
Key Quotes:
"Trusting your expertise, knowing that it happens to everyone, and focusing on the present moment with every patient, you can optimize your clinical performance."

"By staying true to your vision and continuously adapting and filtering out that noise, you're going to achieve unparalleled business growth, but it starts with that inner game."

"Your ability to remain calm, composed, and empathetic, especially in the face of patient anxiety, team upset, and business challenges, is a testament to emotional mastery."

"Our professions are demanding. It demands precision, skill, consistency, and this inside-out approach offers a strategic advantage."

"When you focus on the inner game, you become more than just a clinician, more than just a tooth carpenter, more than just a commodity. You become an authentic leader, a trusted caregiver, a savvy business owner, all driven by a genuine connection to your core values and expertise."
Featured on the Show: