Podcast: Play in new window | Download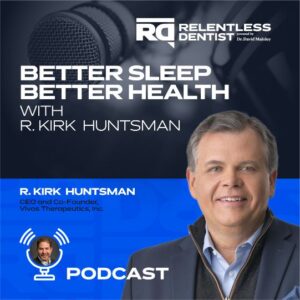 Mild to moderate obstructive sleep apnea (OSD) can lead to a wide variety of health risks. Yet, more than 80% of people with OSD are utterly unaware that they are suffering from this condition.
In today's episode, I am very excited to have Kirk Huntsman, the CEO and Co-Founder of Vivos Therapeutics, Inc.; a medical technology company that focuses on developing a non-surgical, non-invasive, non-pharmaceutical, and low-cost solution for patients with sleep-disordered breathing, including mild to moderate sleep apnea. 
Kirk is a well-known figure in the dental profession. In 1995 he founded Dental One Partners (formerly Dental One) and grew it to over 165 locations in 15 states. In 2010 he was appointed as CEO of ReachOut Healthcare America, and in 2012, Kirk founded Xenith Practices, LLC. He founded and served as the Chief Executive Officer of Ortho Ventures, LLC in 2014, and in November of 2015, he joined First Vivos, Inc. as its CEO.
Recently, Vivos launched VivoScore Diagnostic Technology. It is a comprehensive home sleep apnea test for children and adults. It includes a proprietary ring-like device that you can slide into your finger overnight while you're sleeping in the comfort of your home. 
If you want to take better care of your patients, you would be interested to listen to this episode.
Tune in and find solutions to common practice issues at  Prescriptions for Your Practice
Key Quotes:
"As I built a successful dental practice brokerage business, I quickly understood that dentists struggle with some of the clinical and managerial aspects."

"You want to differentiate your services offering from every other Yahoo in the marketplace. And so we were trying to figure out what we could do that was different."

"I decided I would take the orthodontic courses. I said, look, guys, you guys follow me, and I'll do this with you. If I can do it, you can do it. "

"I was probably the only business guy on the planet that had the clinical perspective, as well as the business background."

"The doctors have got to feel confident enough in the technology and competent enough with it that they can go into the operatory, sit down with the patient, close the case and never look back. The patient will have a great experience, and they're [doctors] going to have a great experience."

"You don't need to be in intervention for a lifetime. Would you rather have a mandibular advancement case that you're married to for life, or would you rather have the opportunity to celebrate victory in 12 to 18 months and be done with that case?"

"I appreciate how this all comes together and adding quality and quantity of life for patients and family members."

"ADA has recommended that all dentists screen all their patients for sleep apnea. That's now becoming the standard of care."
Featured on the Show: