Podcast: Play in new window | Download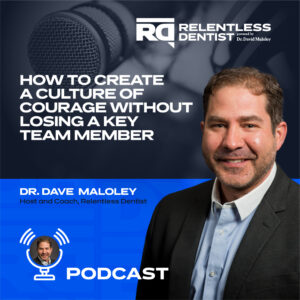 "A life spent making mistakes is not only more honorable, but more useful than a life spent doing nothing." — George Bernard Shaw
The problem we're addressing today is that cultures that are too careful, that are too risk-averse, unintentionally undermine innovation, undermine practice growth, and really undermine employee job satisfaction.
In this episode, I discuss high-performance dental teams. So, if you want to: 
Increase your team's productivity,

Avoid losing a key team member, and

Encourage mistakes of ambition so you can be an effective boss, then tune in now!
 Lastly, I have an offer for you! I'm looking for four hungry dentists who want to join my case study group. If you're a little frustrated with your current situation or more than a little frustrated, you're a perfect candidate. Listen to this episode and find out how to join.
Listen in and find solutions to common practice issues at  Prescriptions for Your Practice.
If you enjoyed this episode, please share it with your dentist friends. Check my Instagram (@dr.maloley) and TikTok (@dr.maloley) for your daily dose of thought-provoking content so that you can be a better practice owner. Don't forget to subscribe to the show on iTunes to get automatic episode updates for The Relentless Dentist! And, finally, please take a minute to leave us an honest review and rating on iTunes. They really help us out when it comes to the show's ranking, and I make it a point to read every single one of the reviews we get.
Key Quotes:
"Unfortunately, our industry is notorious for hiring bright, ambitious people. We work really hard to find the right people. And then we put them in situations where they squander those talents and the ambition goes to waste."

"The possibility is that we can get the most out of our payroll dollars and have a constant supply of fresh ideas and innovation in our practice, which is gonna move our practice into the future."

"Let's learn some lessons from one mistake and turn that into something that we all can learn from."

"Either we win or we learn."

"Sometimes the most powerful words that a leader can state is 'this is what I'm working on.' Or 'this is where I messed up. And this is what I plan to do to resolve it.' Or 'this is my mistake and this is what I learned.'"
Featured on the Show: