Podcast: Play in new window | Download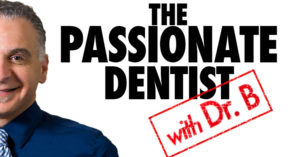 Today's episode is a little different. Instead of me interviewing our guest, Dr. Bilal Saib of The Passionate Dentist podcast, we interview each other about the highs and lows of our careers and the joys of podcasting.
Dr. B is a fellow dentist and podcaster based in North Carolina. He's also a frequent missionary to the West Bank, where he performs free dental work in communities in need. In this episode, we talk about how our shows have given us a greater sense of community with other dentists, and dig into our careers.
Dr. B and I talk about the lack of confidence among dentists, which is exacerbated by our tendency to only talk about the good things happening in our practices. We discuss the self-reflection that goes into building your own practice and learning how to manage a team, and how it's made us better people. Dr. B also shares some of his experiences with missionary work, a unique but meaningful challenge he feels compelled to undertake.
Key Quotes:
When you decide to own dental practice, you have to step up to the plate and do what is required of you.
The thing that makes us more fulfilled and makes our practices grow is the psychology of you, the owner, and there's nothing more powerful in psychology than confidence.
What the practice requires of me has made me such a better person.
I go on mission trips because I'm sharing my gift. And my gift is all these little tidbits of things that are lined up perfectly to create this perfect environment.
I chose to have a low volume, high-quality practice even before I started my practice.
Dentists are sometimes so benevolent that we forget the time and energy that we put into our education, hiring and firing staff, and patient relationships – there's a lot of equity there – either because we come from humble beginnings or because we come from a place of give, give give.
One of the first questions I ask dental students is: "why did you choose to become a dentist?"
The first check I ever wrote myself was $100. It was a symbolic gesture of my three year anniversary.
You learn a lot from practice management because when you have a busy practice, you learn what you want and you learn what you really don't want. And there's huge value in knowing what you want.
Don't treat insurance patients differently than non-insurance patients. Don't cut your quality short. Do your very best with every patient, even if they're on insurance.
Featured on the Show: