Podcast: Play in new window | Download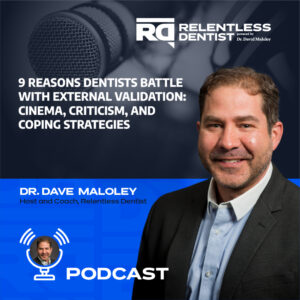 Navigating the dental profession is a journey filled with excitement, responsibility, and yes, even fear. That fear, often unnoticed, is FOPO – Fear of Other People's Opinions. It's a common struggle among dental professionals, rooted in peer pressure, patient expectations, social media comparisons, and personal perfectionism.
FOPO can be paralyzing, hindering calculated risks, innovation, and genuine patient connections. To overcome it, self-awareness is key. 
In this transformative episode, delve into the profound impact of FOPO (Fear of Other People's Opinions) on dentists:
Hollywood's Shadow: Unmasking how the entertainment world inadvertently dims the dental profession's shine.

Breaking Chains: Proven strategies to shed the burden of people-pleasing and societal pressures.

True North: Channeling your vision and aspirations to mold a dental career that's both lucrative and rewarding.
Whether you're a deep-thinking dentist or a practice owner striving for excellence, this episode offers the clarity and momentum you need. 
Ready to amplify your confidence and success as a dental practice owner?
Press 'play' now!
Attention single-location dental practice owners who want to build a high-performance team so that you can take more time off while enjoying elevating profits: Learn about Dental Practice 3.0 and the new Dentists Ascend Mastermind
Listen in and find solutions to common practice issues at  Prescriptions for Your Practice.
Key Quotes:
"FOPO, fear of other people's opinions, it's going to compromise your decision making, your clinical decision making, primarily because you're going to be prioritizing patient perceptions over optimal care."

The constant stress from fear of other people's opinions leads to professional burnout."

"Recognizing that fear of other people's opinion is a common professional concern, rather than you failing is the first step. It's not personal."

"Distance yourself from peers who are consistently offering unconstructive criticism or breed negativity."

"No is a complete sentence. Make sure that you're very clear on your vision."

"Encourage patients to share their experiences, ask how you can serve them better, and ask trusted colleagues for their insights."
Featured on the Show: