Podcast: Play in new window | Download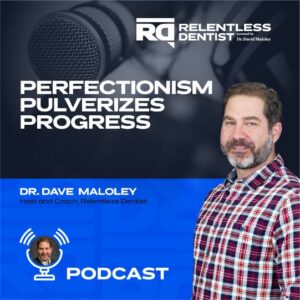 Where in your relationships, your health, your financial situation, your clinical dentistry, can the realism of progress take precedence over the fantasy of perfection?
At one point in our life, we have been in a situation wherein we strive to be perfect, only to realize that it is only an illusion that we put upon ourselves out of fear of criticism and rejection.
The key to perfection is acknowledging that it doesn't exist.
Perfection is fiction, and it can be destructive. I'm not saying that you should lower your standards. Set high standards and strive for excellence, not perfection. You can only achieve success through progressive action.
Listen in as I discuss pointers on how you can identify areas of your life or business where the standard of "perfection" should be replaced with progress.
Tune in and find solutions to common practice issues at  Prescriptions for Your Practice
Key Quotes:
"When it came time for me to cross the finish line, I looked up at my time and the critic turned on, and I was starting to think of ways that should have improved my time and why the time wasn't good enough. The standard of finishing immediately changed, and I was looking for opportunities where I could have perfected that run."
"That is a metaphor for a lot of or our lives. Where is that perfectionism that we're trained to notice these meticulous details in the mouth, the dentistry that we're doing, the margins, the bone levels? We're down to millimeters and microns and that works really well in dentistry, but it can create all sorts of problems with their teams, with their families, in our life."
"We create these environments where there's learned helplessness because our team thinks 'Well, I can never live up to the doctor's standards so why even try? I'm not even gonna put up the effort because I'm getting criticized.' So, it starts to hamper our relationships."
"What is perfect? The reality is it doesn't exist."
"The solution isn't to really lower your standards. But we have to appreciate that the path to mastery is messy. Whenever you start on anything, you suck at it. So you have to give yourself permission to suck and get better, and better, and better."
"The solution is making peace with imperfection and falling in love with process and progress."
"Human desire isn't perfection, it is connection."
"Understand that we have to change habits to change identity. Once we start to build that confidence, then the success and the progress are inevitable."
"Perfection leads to procrastination."
Featured on the Show: