Podcast: Play in new window | Download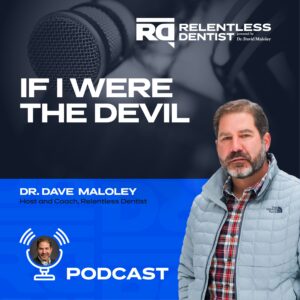 "If I were the devil, I'd soon have families at war with themselves, churches at war with themselves and nations at war with themselves until each, in its turn, was consumed." — Paul Harvey
I'm not being political, religious, or whatnot, but Paul's strong message in his 1965 broadcast has proven to be prophetic — how elements of good and evil are at play in constant dynamic throughout global history. You might think these are inevitable in the grand scheme of things, but these are more imminent in our practice. One thing is clear — an organization is created or destroyed from the inside out. Hence, the critical question right now is, "Where do we go from here?".
In this episode, I'll dive into the psychology of destroying the practice from the inside. Then, I'll cover the four elements you need to stop to avoid negativity and toxicity in your practice. Ultimately, it would help if you quickly diagnose when your mind isn't serving you and your goals, patients, and vision before falling into the dark side.
Tune in and find solutions to common practice issues at  Prescriptions for Your Practice.
Key Quotes:
If we know how to destroy a dental practice, we know how to build it up very quickly.

Stop your blame. It's your practice, and if you blame other things, outside forces, you're giving away the power to create a vision and bring it into reality.

If you're in a conversation with villains and heroes, no one's coming to save you. That's a position of weakness, and we have to get you back into creator mode.

My practice is not limited by its opportunity. It's limited by its leader.

Excuses and reasons are just an attempt to lessen the blame that you're attaching to yourself after a mistake, a mishap, a wrongdoing, an upset patient.

If you can change the situation, then do it. If you can't, then you are forced to accept it.

Stop speaking ill of others even if you feel that they deserve it.

Being 100 percent responsible doesn't mean beating yourself up.

We need better leaders in these wild times.
Featured on the Show: